Wakefield Athletics (Mission)
The Student Activities Office encourages a positive and enthusiastic environment where coaches can provide opportunities for student athletes to excel thru the teaching of life-long lessons in leadership, teamwork, discipline, sportsmanship and competitiveness.   Collaboratively, the activities office and coaching staff strive to promote our student athletes to develop and implement these life-long characteristics on and off the playing field. We value the "Wakefield Way" where we challenge our students to excel in "Rigor, Relationships, Resilience, Responsibility, and Results. "The Wakefield student athlete will be able to excel in high school thru their experiences in Wakefield athletics; gaining experiences from the diversity, passion, learning from mistakes, academic importance, modeling good citizenship, self-esteem, and forming trusting relationships with coaches and teammates. Together, we can change the culture of "That's Just Wakefield" to mean "We Are Wakefield" with PRIDE!
Athletic Game Schedules : warriorswhsathletics.com
Winter Sports Information
Winter sports tryouts begins November  11, 2019 and there is a minimum of 3 days for tryouts.
To turn in your sports physical for winter tryouts, please click on link for details – WANT TO PLAY A WINTER SPORT updated 2019-2020
General Winter Sports Tryout Info 2019  – TBA
WAKEFIELD WINTER 2019-2020 TRY OUTS (updated 11.7.19)
Winter Sports begin on November 11 – (Basketball, Swim, Gymnastics, Dance, Air Rifle, Wrestling, Indoor Track, and Cheerleading)
VARSITY AIR RIFLE TEAM INFO:
2019 New Member Information Packet
UPDATED: October 2019
There will be a makeup orientation for the Air Rifle club (Monday October 29) from 5:30 to 9:00 for anyone who was not able to attend the original orientation.  The address is 700 S. Buchanan Street, Arlington VA  22204.  The club is available to students from any of the Arlington High schools and 8th graders from any Arlington schools (based on space). Please get the word out to anyone you know at any of the Arlington High schools (or any 8th graders) who may be interested in joining the Air Rifle Club.
For the 2019-2020 season, the mandatory Air Rifle Team orientation will be held as follows:

Dates:

Mon., September 30:  4:30 pm to 9 pm
Tues., October 1: 5 pm to 7 pm OR 7 pm to 9 pm (select one time slot)
Wed., October 2: 5 pm to 7 pm OR 7 pm to 9 pm (select one time slot)
Thurs., October 3: 5 pm to 7 pm OR 7 pm to 9 pm (select one time slot)

Members must attend on September 30 from 4:30 pm to 9 pm. On September 30, you will select the 2-hour time slot during which you will attend for October 1, 2 and 3.
Location: The Woman's Club of Arlington, 700 S. Buchanan Street, Arlington VA  22204 (WCA)
Bring a light snack; we will have a short break in the middle.
Air Rifle is a NCAA, International and Olympic co-ed sport.  Air Rifle is one of the few High School, Collegiate and International sports where men and women compete against each other directly on equal footing.The Air Rifle team is excited to announce that we have secured a new practice location closer to school (1.3 miles away) and that allows us to expand the size of the Club team. Here are upcoming prospective Air Rifle Team dates where interested students can receive more information:  Thursday, September 26, 3:30 pm Wakefield, Room A134: Prospective Member Information Meeting.   Thursday, September 26 (During all lunches): Student Activities Fair.  Team will be setting up a table at the Fair to help inform new members.  Prospective New Member Orientation – See above information and flyer!
All sports require a 2019vhslphysicalpacket
Winter Sports Practice Calendar
@wakeathletics
This looks like an awesome opportunity to keep your brain firing over the summer months. Take Advantage of the opportunity.
https://t.co/LSvumEZcr2
Published June 03, 20 5:44AM
Girls and Boys Tennis, Track and Field and Crew today is your day!!!! Bring back your athletic gear so the Warriors below you can have the same opportunity next year to play next year. Can't wait to see your smiles.
Published June 03, 20 5:07AM
Published June 02, 20 12:24PM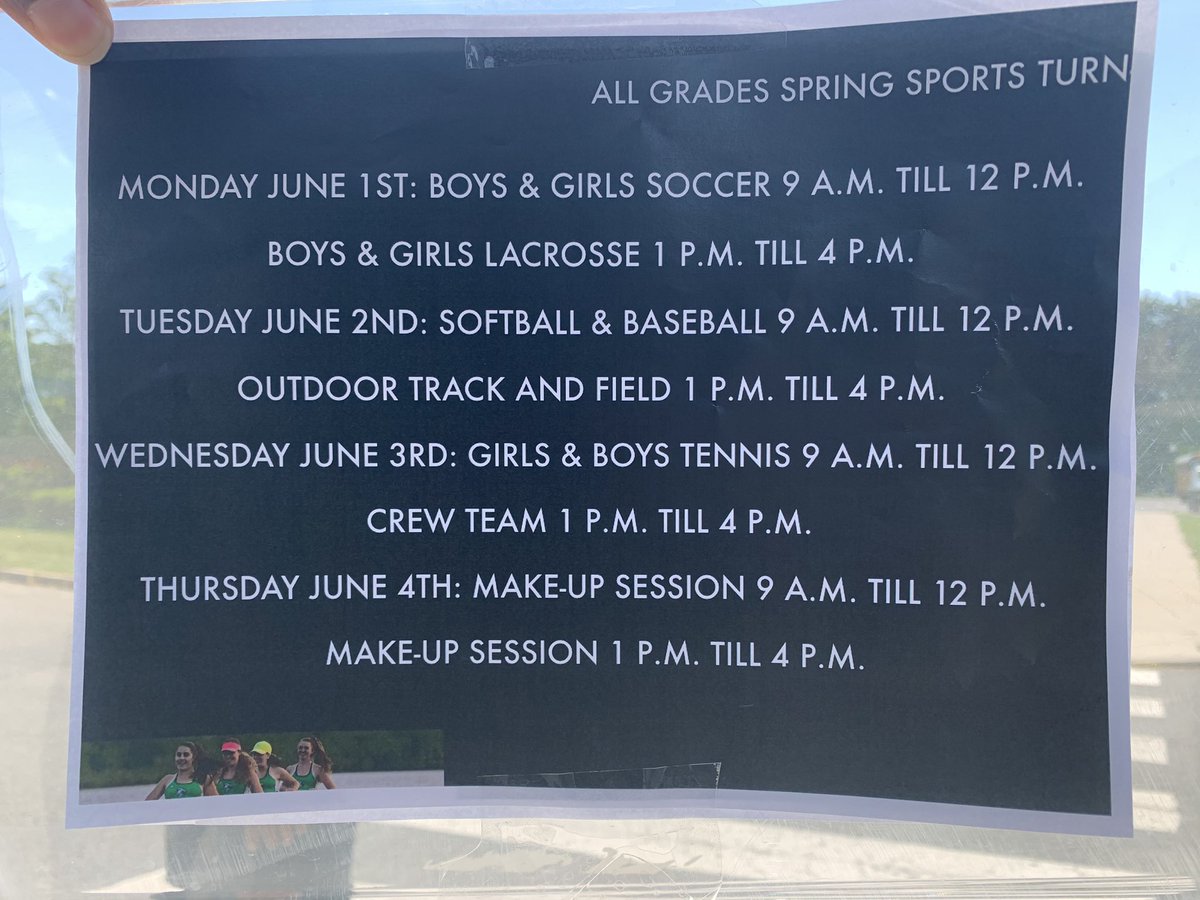 Published June 01, 20 10:34AM
Tomorrow's Athletics Drop Off confirmation is Softball, Baseball and Tennis from 9-12 am. Tuesday Morning. See you guys in the bus loop!!!!
Published June 01, 20 8:46AM
Follow